Location Of Mirador San Jose
Mirador San Jose- Practical Information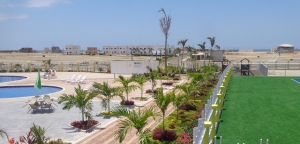 Directly on the site of Mirador San Jose, you will find swimming, parks, private club, beach, tennis, soccer, biking, hiking and games for children and excursions to the dry tropical forest. Water Sports: Directly at Playa San Jose, paragliding, para sailing, surfing, and fishing. Fauna / Flora: The immediate area of Mirador San Jose is part of a dry forest, with a fauna and flora exclusive to this type of micro climate. Guided tours are available to learn about the native species of the area. Nearby, less than 20 km To the south, the Machalilla National Park begins, where we find 3 types of forest,dry, transient and wet. Each of these areas contain species of plants and animals, that are unique to each of these areas.One kilometre north begins Pacoche National Reserve, where you will can have guided tours in the tropical wet forest of this protected park. You can see bamboo, monkeys and other wildlife and lush flora. Briefly, on the coast of Manta , you will cross micro climates, and vegetation, and wildlife, can change dramatically within a radius of a few kilometres.
From Abroad- There are currently two possibilities of international airports in Ecuador: Quito or Guayaquil. From Quito you need to take another flight to Manta on the coast, which is only around 30 minutes. From Guayaquil Mirador San Jose is located about 175 km north from Guayaquil. Mirador San Jose is located at Km 607 on the Ruta del Spondylus highway, also known as the "route of the sun."
Airfare Cost- International flights from the Canadian cities of Montreal or Toronto average about $800.00-$1,200.00 between low and high season. The flight is approximately 6.30 hours. Currently there is no direct flights to Ecuador from Canada. You must connect in the United States. Air Canada currently has a flight to Bogota, Columbia where you would need to get a connecting flight to Ecuador. Flying through the U.S. is a better and more convenient option. Delta Airlines has some excellent prices and frequent arrivals and departures. There is some rumour that Manta will be hosting international flights in 2012 or 2013.
Nearby Services– The main important city close to Mirador San Jose is Manta, with nearly 300,000 population and growing. Manta has all the necessary services such as: supermarkets, construction supplies, shopping malls, restaurants, car rental, hotels, universities and colleges, private and public hospitals etc. Manta is an important economic and financial hub for the area, and continues to prosper with new citizens from abroad and locally. If you wish for something a little closer, than Puerto Cayo is only a 10 minute drive to the south of Mirador San Jose.You can purchase some essential foods, fresh fish, fruit and vegetables.
Tours offered from– All major excursions in the province of Manabi, are available on site. Isla De La Plata, Manta, Montecristi, Machalilla National Park and Pacoche Park.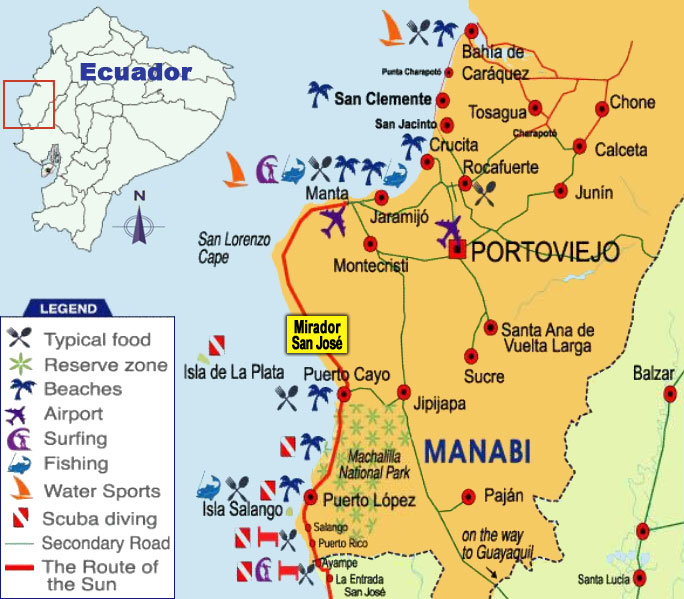 Travel Inland- Ecuador has a network of public transport well developed, and it is very easy to make, almost from anywhere in the country, at very affordable prices. Public buses : Towns – Provincial – Inter provincial – International, allow you to move, and even go to neighbouring countries Peru – Colombia – Chile – Venezuela – Etc … for a price of approximately $ 1.00 per hour Taxis are also easily accessible and it is possible to hire a private taxi for a few hours or a full day, for about $ 10.00 per hour. Domestic flights are also affordable, for about $ 70.00, you can move between the major cities and tourist regions of the country.
Galapagos Islands- For several scheduled flights each day, allow you to make a leap, a few days, all-inclusive economy class or higher.
Cost of living-The cost of life in Ecuador is approximately 25% that of most industrialized countries. You can get a hotel room, with breakfast, from $ 8.00 PP A meal of the day, including: Soup – Main course – Juice – Dessert from $ 1.50 Cigarettes: $ 1.40 package A large beer in a bar: $ 1.00 Fruits-Vegetables Fish and seafood: Very affordable Regular gasoline: $ 1.48 a gallon, less than $ 0.40 per litre Minimum Wage in the country: $ 218.00 per month. Retiring in Ecuador is very affordable on a minimum pension income.
Climate Change- Due to its geographical location, is the meeting of two great ocean currents in the world. Those from the north and those from the south. These two great currents circulating in opposite directions have a cooling effect that prevents hurricanes from developing off the coast of Ecuador. Most experts are unanimous on the fact that this region will not be affected, like other regions, for future climate change. It is also a region that knows no storms, hurricanes and tornadoes, unlike other countries who know, year after year, a marked increase in devastating weather patterns.
Hospitals and Clinics- The city of Manta is located less than 70 km from Mirador San Jose. Manta has several hospitals, private clinics and all health professionals, vision, dental, etc . Some clinics even offer you an annual fee of $20.00 per family, all free consultations with emergency physicians, and without limit. For vision care, or mouth, for example, it is possible to receive treatments or equipment (glasses, dentures, etc.)about 20% of the price. It is also possible to take out insurance to cover the cost of hospitalization and treatment.
---
Manta is a mid sized city in the province of Manabí-Ecuador. It's the fifth largest city in the country and economically the third most important city of Ecuador.
For many years, Manta has been a trading post for the ancient culture of the "Mantas". With a population of around 300,000 inhabitants, the city's main economic activity is tuna fishing, canned products, coffee beans and industrial petroleum/chemical products ranging from cleaning supplies to oils and margarine.
Manta is also home to many local and foreign tourists seeking fun in the sun. Manta is also a port of call for cruise ships, bringing much economic activity to the city. Manta has something for everyone. Modern conveniences with shopping malls and theatres to "trying" your bargaining skills at the Tarqui shopping district, where many vendors sell their merchandise. The Manta, Ecuador Real Estate market is the hub for the entire region, and is worth exploring.
Montecristi and the Panama hat
The traditional "Panama hat" isn't really Panamanian at all. In fact, these traditional hats have been made for decades in the Ecuadorian city of Montecristi which is 16 kilometres south of Manta. Back in the 19th and 20th century, like most goods exported from South America, they made their way first to Panama before they would be expedited to the world. When former U.S. president Theodore Roosevelt visited the construction of the Panama Canal in the early 1900's, he wore one of these very elegant hats, and the rest was history. It was since then called "The Panama Hat". They are also known as the Jipijapa hat, named after a small town in Ecuador which along with Montecristi are the centres of the woven straw hat trade.